Kuala Lumpur, the capital of Malaysia is one of the most culturally diverse cities in Southeast Asia.  Throughout the history, people from various parts of Asia have settled in Kuala Lumpur. The city is a travel hub that connects flights to many other Asian cities. But it is not just a travel hub, the city itself has plenty to offer and a perfect stopover for the multi-city flight plan. If you don't know where to start yet, here's our 2 days in Kuala Lumpur itinerary to help you plan your stopover more efficiently.
2 Days In Kuala Lumpur Itinerary
Day 1 in Kuala Lumpur: See one of the best attractions and a visit a park
For the first day of your trip, check out these best things to do and the best nature spots the city.
Best things to do in Kuala Lumpur
Kuala Lumpur is filled with many interesting attractions. From street markets, nature parks, to mosque, Kuala Lumpur has it. We compiled a list of the best things to do in Kuala Lumpur according to travel bloggers. Check out this list and customize it according to your needs.
1.Petronas Twin towers
The Petronas Twin Towers are the symbol of Kuala Lumpur. Once the tallest building of the world at 88 stories including a double-decker sky bridge that connects the twins on 41st and 42nd floors. You have to purchase a ticket to get to the viewpoint on the 86th floor. Only a limited number of tickets are issued per day so plan ahead. The effort to a get ticket is worth it but the views of the KL skyline is astonishing.
2. Batu Caves Temple
Batu Caves Temple tops every Kuala Lumpur itinerary. At the front of the temple is an enormous golden statue of Lord Murugan to whom the temple is dedicated. At the base of the statue is a staircase of 272 steps which leads you to the inside of the cave. Be aware and avoid the monkeys that might follow you when climbing the stairs.
3. Kuala Lumpur Tower
Visit the KL Tower for another bird's eye view of the city. You need to buy tickets to access the tower. Additional to the observation decks, the tower has a 360-revolving restaurant, upside-down house, an aquarium and many other attractions to keep you occupied.
Best Parks in Kuala Lumpur
You would be surprised by the number of gardens scattered all over Kuala Lumpur. Here is a quick list of the best places to be outside in Kuala Lumpur.
1. Kuala Lumpur Eco-park
Kuala Lumpur Eco-Park is a natural jungle in the middle of a concrete jungle. You can witness rare 100- year old Jelutong trees and some endangered monkeys here.
2. Perdana Botanical Garden
Perdana Botanical garden is the oldest garden in the city. A suggestion from High heels and a Backpack, was to pack a picnic or grab some street food to enjoy while exploring the garden.
3. Kuala Lumpur Bird Park
Kuala Lumpur Bird Park is one of the biggest bird parks in the world. The park is home to more than 3,000 birds and most of them are native to the city.
Day 2 in Kuala Lumpur Itinerary: See an amazing neighborhood and visit an off-the-beaten trails
Neighborhoods in Kuala Lumpur each represent various  different cultural influences. Check out the following neighborhoods to visit during your stayover.
Best neighborhoods to visit in Kuala Lumpur

1. Bukit Bintang
Bukit Bintang is known for its shopping malls, restaurants, bars and nightlife. It is the entertainment center of the city where you will see the younger generation hanging out. Make sure you stop on Jalan Alor street for some street food and Changkat (local drink).
2. China Town
China Town is another exciting neighborhood to visit during your stopover. Petaling Street in China Town has a flea market where you can buy anything for a good bargain. Aside from the market, Guan di Temple and Sri Mariamman temples are the other attractions in the area that you should visit.
3. Little India
Little India in Brickfields district is the Indian hub of the city. Around 2 million Malaysian- Indians live in this part of Kuala Lumpur. Make sure to enjoy a nice Indian dish in the colorful streets of Little India.
Off the beaten Trail in Kuala Lumpur
If you are the kind of traveler looking for hidden gems during your stopovers, here are some of the best places often overlooked by tourists.
1. Putrajaya
Putrajaya is an extension to Kuala Lumpur. Putra Pink Mosque, District 21 adventure park, and botanical garden are some of the main attractions.
2. Istana Budaya
It is the main venue for cultural acts and performances in Kuala Lumpur. Don't forget to book a ticket and experience some of the unforgettable theatre.
3. Broga Hill
Broga hill is one of the best places in Kuala Lumpur for hiking. Start early morning to be treated with an astonishing view of the sunrise from the top.
Other tips for your 2 days in Kuala Lumpur
You can't leave Kuala Lumpur without trying the local cuisines. Below is a list of our recommended restaurants and bars in the city.
Best places to eat and drink in Kuala Lumpur
Kuala Lumpur is packed with many restaurants and street vendors where you can enjoy delicious cuisines. One of the best ways to drink in the city is to go to a rooftop bar in the evening to watch the sunset. The Heli lounge bar is my pick for the best rooftop bar for its uniqueness. The bar has an aviation theme including tables that are set on a helicopter pad. You can have a perfect 360 view of the city without any obstruction. If you don't have the budget to go fancy, take a stroll to Jalan Alor for street food during the evening. You will find a wide range of Malay, Chinese, Thai and Indian cuisines for reasonable prices.
Tip – If you don't mind a line, follow where the locals lined up for the best street food.
Itineraries for more than 2 days in Kuala Lumpur
Kuala Lumpur is a must-visit destination in a multi-city flight as the city has so much to offer. Here are some of the best Kuala Lumpur itineraries.
3 days in Kuala Lumpur
Sarah and Kris are travel bloggers and journalists from the USA. Apart from their 3- day itinerary, they also shared lists of shopping malls, nature parks and other attractions of Kuala Lumpur in their blog Jet Setting Fools.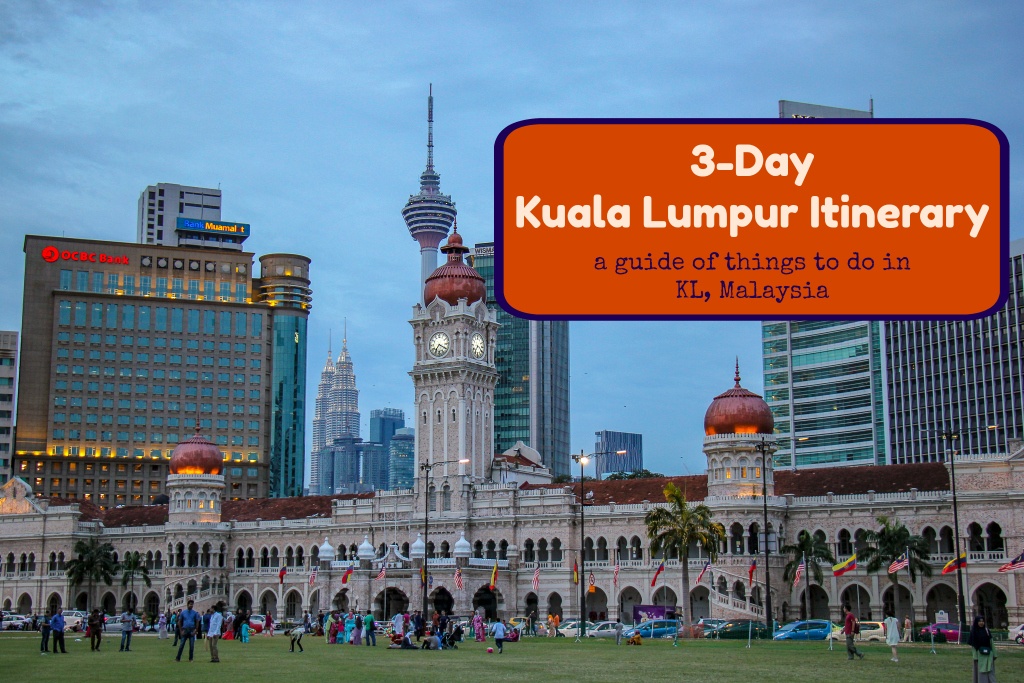 4 days in Kuala Lumpur
UK travel blogger Melissa is a solo traveler. In her 4-day itinerary, she has divided 4 days as Cultural, Tourist, Off the beaten and nature respectively and suggested best places to visit for each of the 4 days in her blog High heels And A Backpack.