Budapest is the capital and the most populous city in Hungary. The city is a combination of two major cities, Buda and Pest, which are separated by the Danube river and a small third city named Obuda. This lively eastern European city has a proud history and culture. Budapest is famous for its 19th-century architectural buildings and its unique nightlife. Stopover in Budapest during a multi city tour and enjoy this stunning city. If you don't know where to start, here's our 4 days in Budapest itinerary and we also have an interesting facts about Budapest to help you plan your multi city trip better.
4 Days In Budapest, Hungary Itinerary
Day 1 in Budapest: See the best sights in the city
For your first day in Budapest, check out our recommended things to do and the best places to see in the city.
Best things to do in Budapest
Budapest has many attractions for its visitors. Here are the best things you can do during a Budapest stayover.
1.       Hungarian Parliament Building
Parliament building in Budapest is the grandest building of the city. Sat gracefully upon the Danube river, the sheer size and architecture are the most impressive things about this structure. If you are planning on seeing the inside of the building, there are daily guided tours, which are about 45 minutes long. Make sure to book in advance. These tours will cost around $11 to $22.
2.       Fisherman's Bastion
Fisherman's Bastion is probably the most photograph spot in Budapest. This place will give you the best panoramic views across the Danube river. The complex consists of seven towers that represent the seven founding tribes of Budapest. Entrance to the place is free, but you need to pay around $4 if you want to visit the upper towers.
3.       Buda Castle
Buda Castle is a palace complex of the Hungarian kings. Initially constructed in 1265, the current version you see was built between 1749 and 1769. Buda castle houses the Budapest history museum and the Hungarian national gallery. Also, don't forget to check out the castle labyrinth where Count Dracula kept imprisoned.
Day 2 in Budapest: Check out the best neighborhoods
Budapest is a collection of neighborhoods that has its character and attributes. Each of these neighborhoods is worth the visit. However, we will list down 3 of the best for you to check out.
1.       Castle District (District 1: Várkerület)
Castle district is the upscale part of the Buda side of the city. The neighbourhood is the home of some of the city's major attractions, such as Buda Castle and Fisherman's Bastion. Castle district is usually busy with tourists during the daytime. But it is the total opposite during night time. So, it is most suitable for travellers who enjoy peace and silence.
2.       Belváros (District 5)
Belváros is the downtown area of Budapest. The Hungarian parliament building and Shoes on the Danube riverbank Memorial are major tourist attractions of the neighbourhood. However, this is a bit expensive compared to others. So, it might not be the ideal place for backpackers and budget travellers.
3.       Erzsébetváros (District 7)
This neighbourhood is the historic Jewish quarter of Budapest. In addition to being home to the city's Jewish community, Erzsébetváros is famous for nightlife with Budapest's iconic ruin bars, cafes and boutiques. Make sure to explore some colourful street arts while strolling around the neighbourhoods.
Day 3 in Budapest: Follow the off the beaten trail and the ruin bars
Budapest still has some uncrowded places that you can escape from if you want to avoid touristy crowd. In the evening, don't forget to check out the ruin bars. Ruin bars are synonymous to Budapest.
Off the beaten trail in Budapest
Many of the famous attractions of Budapest are usually busy and crowded. But there are few things often the typical tourists overlook. Here are off the beaten suggestions for your Budapest stayover.
1.       The Tomb of Gül Baba
It is the tomb of an Ottoman dervish poet and companion of Sultan Suleiman the Magnificent, Gül Baba. It is also the northernmost Islamic holy place in the world. The tomb showcases the perfect combination of Ottoman and Hungarian architecture, and most importantly, it is free to enter as well.
2.       Elizabeth Lookout Tower
Stands on top of János Hill, Elizabeth lookout tower is the highest viewpoint of Budapest. The place will give you fantastic panoramic views of the city. Visitors can see as far as 80 km, depending on the weather. You can either hike or take the Zugliget Chairlift to reach the tower.
3.       Explore the underground caves
Budapest has around 200 caves lie underneath the city. You can take a guided tour to explore Szemlő-Hegyi cave or visit the most extended cave system in Hungary, Pál-völgyi. This cave system stretches out for 28.6 km. Also, you can check out Cave Church in Gellért Hill.
Best Ruin Bars in Budapest
Ruin Bar is a bar established within the ruins of old and abandoned buildings. Budapest, in particular famous for ruin bars. Here are some suggestions.
1.        Szimpla Kert
Szimpla Kert is the birthplace of the ruin bar trend. The property is a large abandoned factory in the Jewish Quarter (District 7). The place is open from 12 pm - 4 am on weekdays, 9 am - 4 am on Saturdays, and 9 am - 5 am on Sundays.
2.       Fogasház
This place got its name from an old dentist's sign they found when building the bar. The bar usually hosts art exhibits. It is open daily from 4 pm to 6 am.
Day 4 in Budapest: Relax at the thermal baths
Don't leave Budapest without trying thermal baths. For your last day, check these amazing thermal baths to have a relaxing journey to your next destination for your multi-city trip.
1.       Széchenyi Baths
Széchenyi Baths are the largest and most famous with 15 indoor pools and three outdoor pools. The place opens daily from 6 am to 10 pm, and admission starts around $17.
2.       Gellért Bath
The mosaic floors and stained-glass windows make Gellért Bath the most elegant of all baths. Admissions start around $21 for a full-day experience.
Other tips for your 4 days in Budapest
Best foods and best places to eat and drink in Budapest
Budapest is filled with amazing places to enjoy a meal regardless of your budget. One of the famous cafes of the city is "New York Café." This café won the title of "Most beautiful café in the world" in 2011. Karavan food court is the place to go if you prefer street food rather than a fancy restaurant. The place serves a variety of international as well as local street foods.
Make sure to try traditional Hungarian Langos. It is a deep-fried dough topped with a savoury topping of your choice. Charlotte and Natalie of "Our Taste for Life" blog suggest Retró Lángos Büfé as the best place for Langos in Budapest.
Kurtoskalacs, also known as chimney cake and Gelatos at Gelarto Rosa, are two delicious desserts you should try during your Budapest stopover.
Itineraries for more than 4 days in Budapest
Pre-planning is essential whenever you are touring a city. Especially for a city like Budapest, where you have many places to visit and things to do. Here are some itineraries to read before planning your Budapest stayover.
5 days in Budapest
If your stayover is more than 4 days, you have to choose things that interest you most and make sure not to waste your already limited time. The blog "TripHobo," shares an excellent 5-day Budapest itinerary.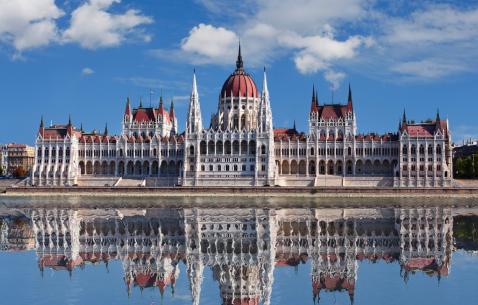 One week in Budapest
This 1-week in Budapest itinerary by "One Week In" contains vital information for Budapest visitors like operating hours and entrance costs of popular attractions.