Visiting Vienna on a stopover? We have your guide below!

Vienna is the beautiful capital city of Austria. It is located on the Danube river and is well-known for its artistic and intellectual legacy. This city that has been shaped by its legends like Mozart, Beethoven and Sigmund Freud is a unique blend of imperial traditions and stunning modern architecture. Vienna is famous for its cultural events, coffee houses, cozy taverns, beautiful sights and the peculiar Viennese charm.
Vienna came into existence after Romans established Vindobona military camp in the first post-Christian century. Today, the cityscape is dominated by the architectural grandeur created by Empress Maria Theresia and Emperor Franz Joseph. This musical metropolis also has a vast number of museums for those who want to explore its history, and it also has the world's largest collection graphic arts in Albertina. Vienna balances both its modern and historical culture, which will be evident when you walk through the city. You will quickly get a feel for where the city was and where it is today.
Best Things to do in Vienna

There is so much history to cover in this city that you will hardly find time to do anything else. There are a lot of famous monuments to check out the modern lifestyle of the city — check out all the famous landmarks and explore the local hotspots.
If you are really into history its best to take a guided tour of the city, which will cover all the significant landmarks and allow you to enjoy your evenings free to explore the Austrian nightlife. Its possible to explore the city on your own as their is good public transport that is efficient, fast, clean and cheap. There two passes that have been specifically designed for the tourists: they are The Vienna Pass with Travel and Vienna Card. Both of these cover all the transportation options: bus, train and subway and offer perks like free entry to numerous attractions and discounts.
Best Things to do in Vienna Checklist
The best and must do things outside of the monuments are listed below. These unique things that you can do in the city and enjoy it from inside out.
Drink coffee on the pavement and eat out at a Dunube riverfront restaurant.
Take a walk at the riverfront in the evening just before the lights are to be switched on.
Try all types of traditional sausages.
You have to try the Sachertorte cake.
Do visit the St. Stephen's Cathedral at night as well.
Take the street art tour to check out the thousands of Graffiti on the city's walls.
Walkthrough the tantalizing Naschmarkt. You can also opt for a food tour in Naschmarkt.
3.  Walk on the ring road or take a tram to explore eclectic architecture and famous       buildings.
4.  Enjoy the Austrian countryside by escaping to Vienna Woods.
5.  Bungie Jump from the Donauturm tower
6.  The Hundertwasser House
Top Places to Visit in Vienna
Consider starting with the Schloss Schonbrunn, which is the former summer residence the Habsburg - who ruled for 6 centuries.  Today Schloss Schonbrunn offers a rich insight into the culture and heritage of Austria.
The Belvedere Palace is another example of Viennese grandeur that will take you back in time. Today, this palace is home to the Osterreichische Galerie, which translates to the Austrian Gallery. This is where you will find the most extensive collection of works by Klimt, Kokoschka, and Schiele. Some other great landmarks: Stephansdom – St. Stephen's Cathedral, The Giant Ferris Wheel in the Prater and The Spanish Riding School.
As already mentioned, Vienna has a vast number of museums and galleries dedicated to the city's history and the legends who call it home. You cannot miss visiting at least the most popular ones like the Kunsthistorisches Museum, Museums Quartier, Museum Moderner Kunst, Architekturzentrum and Kunsthalle.
A trip to Vienna can never be complete if you do not enjoy the coffee at the roadside local coffee houses. You have to sit down on the pavement and watch the city go by on a lazy evening. To get a taste of the local fast-food, you have to try the beloved sausage stands, also known as the Wuerstelstand. The best way to end the day: a visit to the rustic wine taverns that stand with an old-world charm.
Places to Eat and Drink in Vienna
Vienna's comfort food is Schnitzel. This is a thin slice of meat fried in fat. It is usually served with a light salad and is heavenly no matter where you eat it. But there is a lot more to Vienna than just Schnitzel, which is a must-try. Following is a list of restaurants that you can try to enjoy traditional Viennese food.
Knodel Manufaktur
This Austrian restaurant is well known for its dumplings that come with unusual fillings like chocolate, cheese, jalapeno and black cherry. Austrian food is hearty and filling. Try this restaurant to try Austrian cuisines with a twist.
Pramerl and The Wolf
There's no posh menu in this restaurant. You get to choose between a small or an extensive taster menu and fresh bread and other surprises from the kitchen. This is a Michelin star restaurant that is managed by chef Wolfgang Zankl along with his Sous and Sommelier. This restaurant is for you if you would like to have an intimate dining experience.
Neni Am Naschmarkt
This is an excellent all-day restaurant located in Vienna's biggest food market: Naschmarkt. Here, you will find Tel Aviv style breakfast, lunch and dinner. This is a great spot to refuel mid-shopping. You can grab a chair outside and order a plate of filo, stuffed with spinach and sheep cheese and watch people shop for their greens and seafood. Must try in this restaurant? An Israeli breakfast of Labneh, scrambled eggs, salad, olives and the famous fluffy pittas.
Lugeck
Lugeck is situated in the Regensburger Hof building. It is run by the same people who run the Schnitzel restaurant Figmuller. This is restaurant serves a combination of Austrian classics along with a vast collection of international dishes. If you are looking to eat a traditional meal of a Wiener Schnitzel or Franz Joseph I's favourite boiled beef dish and award-winning Austrian wine, this is the restaurant for you.

Some other restaurants that offer unique eating experiences are Kolar, Schachtelwirt, Duru Kebap, Eis Greissler and Café Benedikt.
Best Places to Stay in Vienna
The best place for you to stay in Vienna has to be decided according to your travel style. If you are travelling with kids and would like to follow a laid-back routine, you should head to the 7th district, Neubau. Whereas, if you are planning to check out the university scene and would love to enjoy the nightlife, you should stay in the Spittelberg Neighborhood. Nonetheless, the following are great options.
The central Vienna is filled with hotels that have an imperial history. Staying on one of these hotels will give you the real feel of the city and all the modern comforts. Some of the hotels that you can choose from are Hotel Sacher Wien, Hotel Das Tigra, Kunsthof Hotel and Hotel City Central. All of these hotels are at a walkable distance from the city's heritage sites and offer beautiful views and astounding service.
There are many more wonderful stay options away from the center. These are cheaper than the hotels mentioned above that are right in the center of all the activities. Some of the best choices include Austria Trend Hotel Savoyen Vienna, Ruby Mary Hotel and The K+K Hotel Maria Theresia Vienna.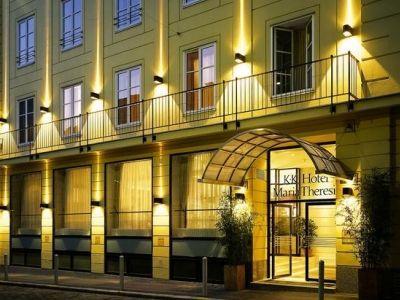 Travel Itineraries
Here are two travel itineraries created by experienced bloggers. They have been there and done that to help you enjoy a few days in Vienna by doing some hand-picked activities.
3 Days in Vienna
This three-day itinerary has been created by Gemma and Craig from www.twoscotsabroad.com. They travel the world together, love to wear tartan and create travel guides. Here's there take on what to do in Vienna if you have 3 days in the city.
Their travel plan is the most elaborate plan you will find for three days in this city.  Their blog also covers details like where to shop, stay and which day tours to take to thoroughly enjoy the culture of Vienna. You can check out their travel itinerary here.
One Week in Vienna
If you plan to spend one week in Vienna, you should follow the travel itinerary created by Nomadic Matt. He created a travel plan that helps you see more while spending less. In his blog, he provides the best travel tips and planning checklists. To check out his travel blog and know what to do in Vienna for 7 days, click here.